It is the secret living room in the houses where life and hospitality take place: the kitchen. Marissa Galda, a kitchen vendor at Möbel Jessen in Breklum for ten years, has long noticed that the kitchen is becoming increasingly important: "Especially in new buildings, open-plan kitchens are being created. "This has increased in recent years," said Husum. The video shows what happens in kitchen planning, what choices customers have and how North Friesland's largest furniture fair Möbel Jessen supports its customers from A to Z.
At Möbel Jessen, customers can be inspired by more than 50 kitchen models. Opening and closing cabinets and drawers, testing handles, comparing different facades and workbenches, examining hoods and electrical appliances – all of these are possible. The kitchen area covers 1,000 square meters and also includes electrical appliances from the brands Siemens, Neff, Samsung, Miele, Constructa, Berbel and Bora. Kitchen saleswoman Marissa Galda and her colleagues provide support with all questions. Most clients come to Möbel Jessen from North Friesland, the neighboring islands and Dithmarschen, Schleswig and Flensburg.
"Most people already have an idea of ​​what kind of kitchen they want," says Marissa Galda. Cottage kitchens are very popular here in the north and are still very popular. Möbel Jessen also has many other kitchen models on display. Design without handles, kitchens with glossy or matte appearance, futuristic concrete style and even without obstacles – all this and much more is possible. Any wish can be fulfilled.
"We can design completely separately – large kitchens, small kitchens, individual cabinets and appliances. We are flexible and respond to every request. "
Marisa Galda
Kitchen designer and consultant at Möbel Jessen
Marissa Galda supports Möbel Jessen customers in choosing and designing their kitchen.
Photo: sh: z
Five-year warranty on kitchen furniture

At Möbel Jessen's kitchen unit, guests can combine different surfaces, facades and handles in the sample studio with the support of consultants – just the way they want. There are many possible combinations of colors, materials and equipment. Möbel Jessen sells kitchens of all sizes and price ranges. The family business focuses on durability and quality. It has many kitchens made of solid wood and provides a five-year warranty on kitchen furniture.
Because a kitchen is as good as its detailed design, Möbel Jessen's consultants draw the kitchen virtually in 3D on the computer with the client. This gives you a better idea of ​​what the new home kitchen will look like in the end. Of course, this requires the right scale: "It is great when our customers take with them the dimensions of the existing kitchen or, in the case of new buildings, the plans or the floor plan with them in consultation," says Marissa Galda. If you are interested in buying a kitchen and want to make an appointment for a consultation, you can either make an appointment by phone at 04671 91 500 or online using this form.
Möbel Jessen designs virtual kitchens in 3D in close collaboration with the customer.
Photo: sh: z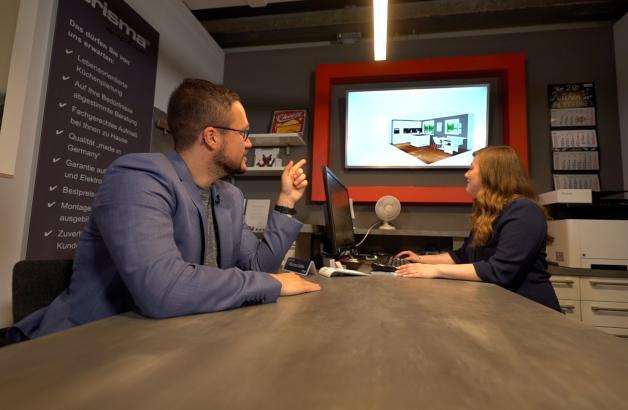 Once the kitchen is planned, Möbel Jessen comes to the client's house to take measurements, that is, to accurately measure the room and also to draw up the installation plan for important connections. Möbel Jessen's own assembly team assembles and connects the kitchen so that it can be put into operation immediately. "In addition, they are disassembled and discarded like the old kitchen, if customers want it," says Arne Brodersen, CEO of Möbel Jessen.
Living worlds on three levels: more about Möbel Jessen

With an exhibition space of 11,000 square meters, Möbel Jessen is the largest furniture exhibition in North Friesland. If you want to furnish your own four walls or just want to be inspired, you will find everything here, from small candlesticks to sofa landscapes to spring beds. In addition to the kitchen area, there are other themed worlds such as "Natural Living", "Young Living or Norma Trend", or the "Boutique" on the ground floor with decoration. The "Comfort-Living" section and the armchair arena are located on the first floor, beds, a mattress studio or office space on the second floor.
The Jessen Furniture Store spans three floors. The sales room covers 11,000 square meters and has many different sections.
Photo: Möbel Jessen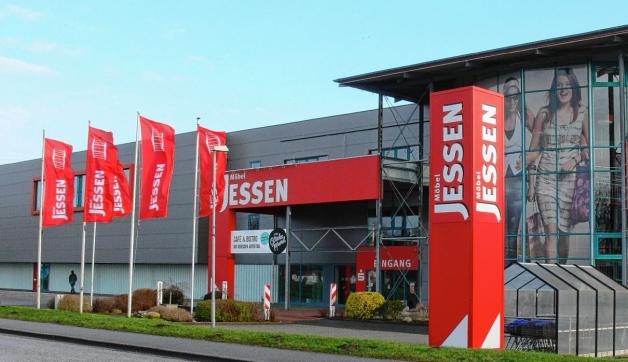 Contact
Jessen GmbH & Co. Furniture KG
Husumer Strasse 28 b (at B 5)
25821 Breklum
Website: kuechen-jessen.de
Working hours:
Monday to Friday from 9 a.m. until 6 p.m.
Saturday from 9 a.m. until 2 p.m. (from May 1 to August 31)
Saturday from 9 a.m. until 6 p.m. (from September 1 to April 30)
Read more: Hyggelig and cheap: the Möbel Jessen furniture store offers nice things to take with you (advertisement)