Sometimes I get quite jealous. Jealous of all those who do not yet know certain games and therefore experience them completely "fresh". With some titles I would give a lot to be able to play them again completely inexperienced. Immortals Fenyx Rising is one such title.
Ubisoft's open-world game will be on Game Pass from August 30, and as such should be discovered by many new players. And they can look forward to a real highlight, which behind the fairly generic title is a real gem that I raved about when I tried Immortals just over a year and a half ago.
But what is Immortals Fenyx Rising? In the action-adventure we are drawn into an exaggerated version of Greek mythology. As Fenyx, who is still quite white, we must help four great gods on the golden island and eventually put the fire demon Typhon in his place.
Great flow
That's why we move in the open game world, explore thematically and graphically different and varied areas, follow the main mission and lose ourselves in all kinds of side tasks. Especially the latter always made me spend more time in the game world than I planned, because everywhere you discover a new challenge, environmental puzzles or hidden crystals, which I was more than happy to follow and climb.
Battles against all sorts of creatures from Greek mythology, like hydras or hounds are delightfully varied and fast-paced, so Immortals Fenyx Rising felt like a piece of cake for me. In my testing at the time, I described the features of the game that stood out to me as follows:
"The awesomeness of Immortals Fenyx Rising lies […] in the flow of his game. Rarely have we seen a game that "flows" with such ease and deserves the label "feel good game" so much. The mechanics of combat, exploration, and puzzles blend together so harmoniously and pleasantly that the title very quickly develops a huge pull effect."
However: Ubisoft's formula, which many deplore, is also noticeable in this game, and the humor should not please everyone – just a matter of taste. So don't expect an absolute super hit with revolutionary mechanics.
You can get an impression of the game in this trailer: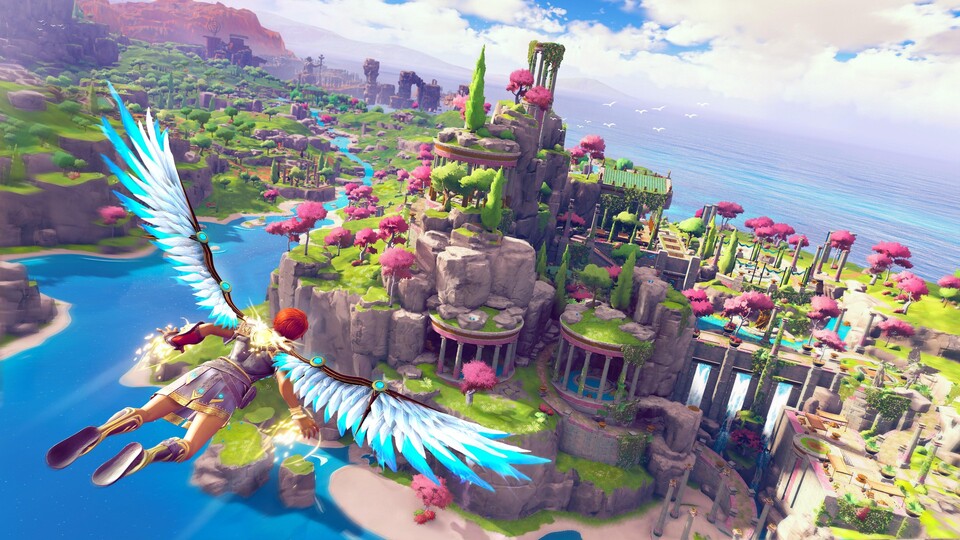 2:38



Immortals: Fenyx Rising – First gameplay trailer shows massive open world
Immortals: Fenyx Rising still gets a full recommendation from me because the overall package is more than just here. So if you have Game Pass and are new to the game, I don't think there's any excuse not to at least give the title a try.
All Game Pass August games at a glance
Of course, Immortals: Fenyx Rising isn't the only title coming to Game Pass in August. You can find an overview of the games you can also access this month in our overview article.
more on the subject
Xbox Game Pass in August 2022: All new games and departures
Xbox Game Pass is a paid service for Xbox Series X/S, Xbox One and PC that gives you access to more than 400 games. In addition to a standard version, there is also an Ultimate version, which also comes with an Xbox Live Gold subscription, access to cloud gaming and EA Play.
We have the most important information about the service in our large Xbox Game Pass review article are summarized.