Dear Mrs. Blyton,
on your 125th birthday on August 11th, I see you in the best of spirits in the land of old typewriters. Have you noticed: I am referring to the lands you described in "The Wonder World Tree" – where a tree growing in an enchanted forest had branches that reached high into the clouds, from the top of which one could reach the most wondrous Lands.
These lands could be lovable, mysterious, strange, or even hostile: the Land of Gifts, the Land of Do-Whatever, the Land of Dreams, or the Land of Magic Medicine. Not to forget the fascinating inhabitants of the tree: the moon face, the fairy silk hair, the all-man, Mrs. Wash.
And no story of yours is complete without the most tempting foods in it. They invented cookies called "Google" long before a search engine called Google dominated our world usage.
The book "Der Wunderweltenbaum", written in 1943, has been revised to reflect the times
These Google buns had a raisin in the center filled with sorbet, and when you bit into the raisin, the sorbet would foam and fill your mouth with fine bubbles.
Adventures and Schoolgirls
I grew up reading your books in Malaysia in the 1970's and thanks to you I got an early understanding of the English language. You wrote almost all the books I read between the ages of seven and twelve.
After all, your children's books have sold more than 600 million copies worldwide since the 1930s and have been translated into 90 languages. In June 2019 you were the fourth most translated author, just behind your compatriot William Shakespeare.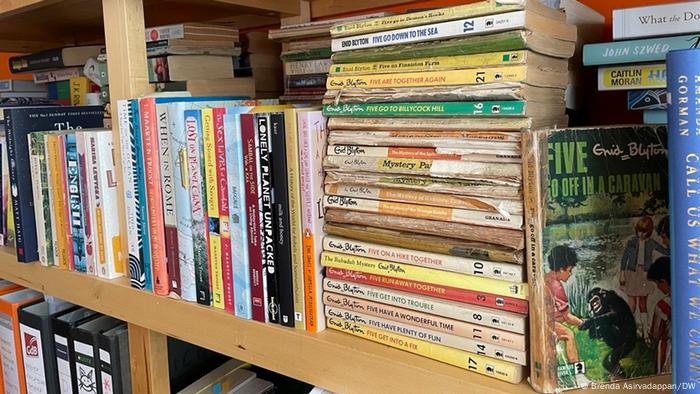 DW editor Brenda Haas' bookshelf
The first book I read was Five Friends at the Traveling Circus – the fifth book in the Five Friends series. By the end of the book, I wanted to work in a circus, ride in a trailer, and have a chimpanzee named Pongo.
I rummaged through our modest "library" at home, voraciously reading our unfinished collections of the Friends Five, Black Seven, Mystery About… and Adventures series. Not only that, I borrowed your boarding school stories from 'Dolly' and 'Hanni & Nanni' from my school library. Having attended a girls' convent run by Irish nuns, I was able to empathize with most of the experiences and feelings of these students. But more on that later.
They have fueled my imagination and made me dream of adventures: sleeping in caves behind waterfalls, lying on heather, eating sticky toffees, deciphering maps, feasting on the contents of old tins. Then you grow up and realize that bats live in caves, that heather is scratchy and expired tins belong in the trash. I have never tasted a macaron that was dumb. And map reading? Well, that's why we have navigation systems today.
But a picnic of fresh bread and cake, "lots of hard-boiled eggs," all "washed down with lemonade"? I like this!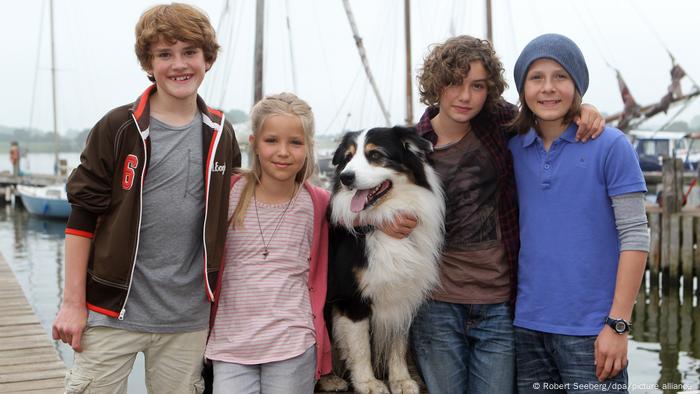 The "Five Friends" in a 2012 German film
lack of literary merit
However, some things were – and especially from today's point of view – somewhat strange: for example, that boys were often allowed to go on dangerous missions while girls had to cook and clean. Or how the girl George was called a "boy girl" by "Family of Five" because of her clothes and short, curly hair – as if "real" girls were supposed to look like that. And foreigners were often either loud or had funny accents.
And looking back, your teenage students didn't have crushes on boys or pop musicians, or problems with acne or period cramps. In any case, your works were labeled as "elitist, sexist, racist and xenophobic" and the BBC refused to broadcast your stories between the 1930s and 1950s because they were considered "of little literary value".
I would like to inform you about some recent changes in your works: Madame Slap from The Tree of Wonder has been renamed to Madame Snap in English as corporal punishment of children has been widely banned. Names with sexual connotations such as Fanny and Dick were renamed Franny and Rick. And body-hating nicknames like Fatty don't sit well with 21st century reading kids either.
Your books are from another era
Mrs Blyton, you continue to be a polarizing figure. Some are calling for you to boycott. Others want a more relaxed approach to books written in a bygone era where the culture, society and language are very different from today.
The UK Free Speech Association (an organization that campaigns for free speech) has responded to the furore surrounding the recent revision of The Wonder World Tree, the book you originally wrote in 1943:
"Classics of children's literature should not be rewritten to be more politically correct. They are of their time. And teaching children that previous generations thought differently than them is a more valuable lesson than replacing questionable passages with funny platitudes. .."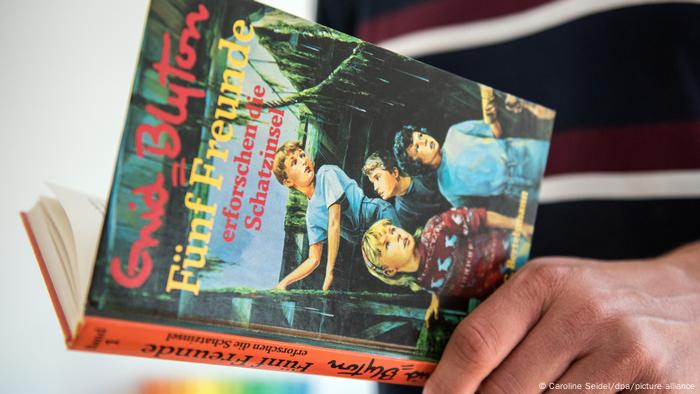 In Blyton's books, children discover the world, hunt down criminals and find treasure
However, I think I know why some adults who read your works as children still have a soft spot for you: you wrote about children freely exploring forests, caves or castles without adult supervision and their parents not worried that social services would they are suing them for child neglect. Their stories refer to peaceful times where there was neither climate change nor pandemics.
And they celebrated strong friendships, a love of pets and a sense of adventure.
Well, Mrs. Blyton, happy birthday. To celebrate the day, stop by Picnic Land – I hope you have as wonderful a celebration as you have so often described in your books.
Sincerely,
Brenda Hass
This article has been adapted from English.