His song "Wolke 4" capitulated him on the charts. However, things have calmed down recently around Philipp Dittberner. Now the singer wants to start over.
the basics in brief
Things had calmed down around Philipp Dittberner in recent months.
Now the 'Wolke 4' singer wants to start over.
Philipp Dittberner has become quieter in recent months. Now the "Wolke 4" interpreter starts again. In the interview, the singer-songwriter looks back on his discovery and his time in a metal band.
Philipp Dittberner (32) is best known for the hit "Wolke 4". The song catapulted him along with his colleague Marv into the charts. He remembers 2014 as a "crazy year".
"I produced the song pretty much with remote support from Marv in my one-room apartment." He says this in an interview on spot on news. "I still think it's crazy that it was on national radio back then."
During this time, Dittberner also showed courage, because "I gave up overnight". He also told his parents, "If this doesn't work out, I might have to go back to my old kids' room temporarily." They agreed to it "immediately", but "thankfully" Dittberner didn't have to go back to his nursery.
Has success changed the 32-year-old? "I think I'm actually the same guy I was… I still have the same friends that have been there since the first hour," he says. "Maybe I've gotten a little more experienced."
Philipp Dittberner's time in a metal band was 'wild'
Today, Philipp Dittberner is known for his soulful German pop songs. But he can also be different, at least once. Because – hard to believe – in his life there was once a "wild season" in a metal band.
"I joined a band called Inventive Suicide when I was 16. Later they called us Out of my Element," says Dittberner. "I was really too young, I couldn't even drive the band bus. But because I could play the electric guitar so well, they allowed me to stay."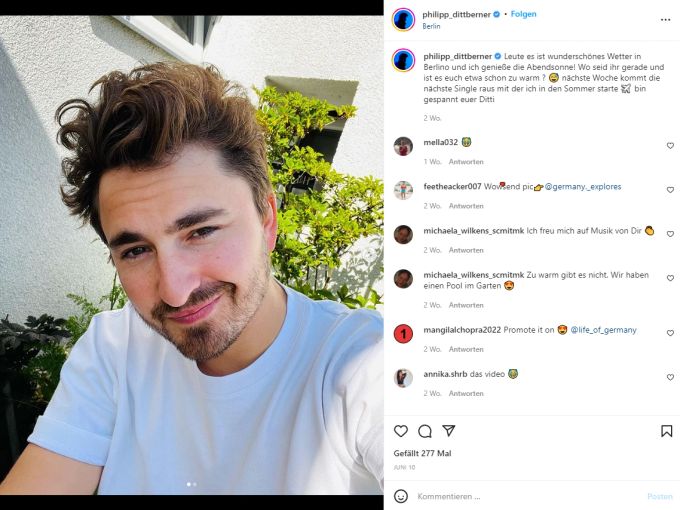 It was a "great long hair moment." As a fan, he once visited the Wacken Festival at the age of 18.
"Sometimes I also listen to old records. But I was always interested in writing in German. So at some point I came to my music, which I make today."
Looking back, Dittberner explains, "I think time has made me more sure of myself. Playing as a 16-year-old in a band where everyone is in their 20s was definitely a challenge."
What has he been up to since 2020?
After his 'Nothing is missing' EP and hit single 'I ask yourself' in 2020, things have calmed down for the 32-year-old. However, Dittberner was not idle during this time, as he emphasizes in the interview.
"What a lot of people don't know or haven't talked about much so far is that I've been in the studio a lot for and with others since 2017." He has collaborated with the music project VIZE and the Hamburg rapper Disarstar (28), among others.
"Writing for others, I gather a lot of inspiration for myself," says Dittberner. Since 2020 he has been "pretty busy in the studio". "He wrote and picked a lot, which is for me and my album as a solo artist. And what could possibly be suitable for collaborations.'
Now this year he is ready to take off again: Philipp Dittberner released the new singles "Marie" and "Something in between" in May and June. A new album has also been announced for 2022.
In September the singer and his band will go on tour. "Four musicians, all of them extremely talented and with whom I am also friends," enthuses Dittberner. "I've been playing with Chris on bass for many years.
He plays, among others, in Revolverheld or Zoe Wees. I can't wait to show old and new songs live."
And what about privacy? "I really want to go on vacation again. Where to, I don't know yet. But the closest friends are definitely there."
More on the subject:
Wacken musician

---