Neukölln, natural wine and many fermented foods on the menu. I felt validated when I saw pictures of Holly Gastrobar online: a simple, minimalist space with raw walls with peeling plaster here and there. Low fluorescent tubes used as lamps and plates photographed against a light gray background so that the rich colors of the pickled vegetables shine even more.
I also found a nice photo of the restaurateurs: a simple guy with a beard, apparently the chef leaning against the wall, a hint of a crooked smile, a tattooed arm. Linking hands among others is his partner, whose name is Fernanda Befi, who was born in Brazil and grew up in Italy. She looks at the camera without makeup and very likeable.
The clear image tells a story with only a few details. Perfect for getting started on Instagram today. Unfortunately, I personally can hardly imagine anything more gastronomically expected in 2022 than a couple with an international biography opening a natural wine gastrobar. In Neukoelln.
I was sure Holly Gastrobar would be very solid. However, nothing attracted me because I thought: What new things to discover and describe there? It didn't get any better after studying the menu: pointed cabbage, read, miso broth, garum. All wonderful things. But either Barra, Beuster, Jaja, Otto, Konträr – I could think of twelve names of gastronomic bars where you can eat such cuisine.
It's been a long time since our tester had such a successful night
But because as a taster you have to fight against prejudice, I went to Holly Gastrobar in Neukölln one night. I didn't want to get caught up in the attitude that is very fashionable at the moment because of my job, I already knew everything without having seen it myself and, in my case, tried it. And my visit there is the best proof of how wrong you can go without a check.
It's been a long time since I've had such a successful night. And this was not only because of the amazingly different taste of the food. Above all, it was due to the good mood and warmth that the hostess Fernanda Befi exudes. My visit to Holly Gastrobar felt like I was in the home of a wonderful family where dad is also a talented chef.
The owner and especially the sommelier creates an excellent atmosphere
Fernanda Befi is a wine and beer sommelier. Since I wasn't in the mood for natural wine, but rather thirsty because of the heat, he recommended Thirsty Lady from the Berlin brewery Heidepeters, for which he had worked for a while, as a drinking companion. In its changing beer selection, Befi focuses on smaller Berlin breweries. Thirsty Lady is a beginner beer for everyone who doesn't want to drink a lager. A refreshing blonde beer, fruity to spicy and slightly bitter on the finish. This went perfectly with the pork I had as a starter.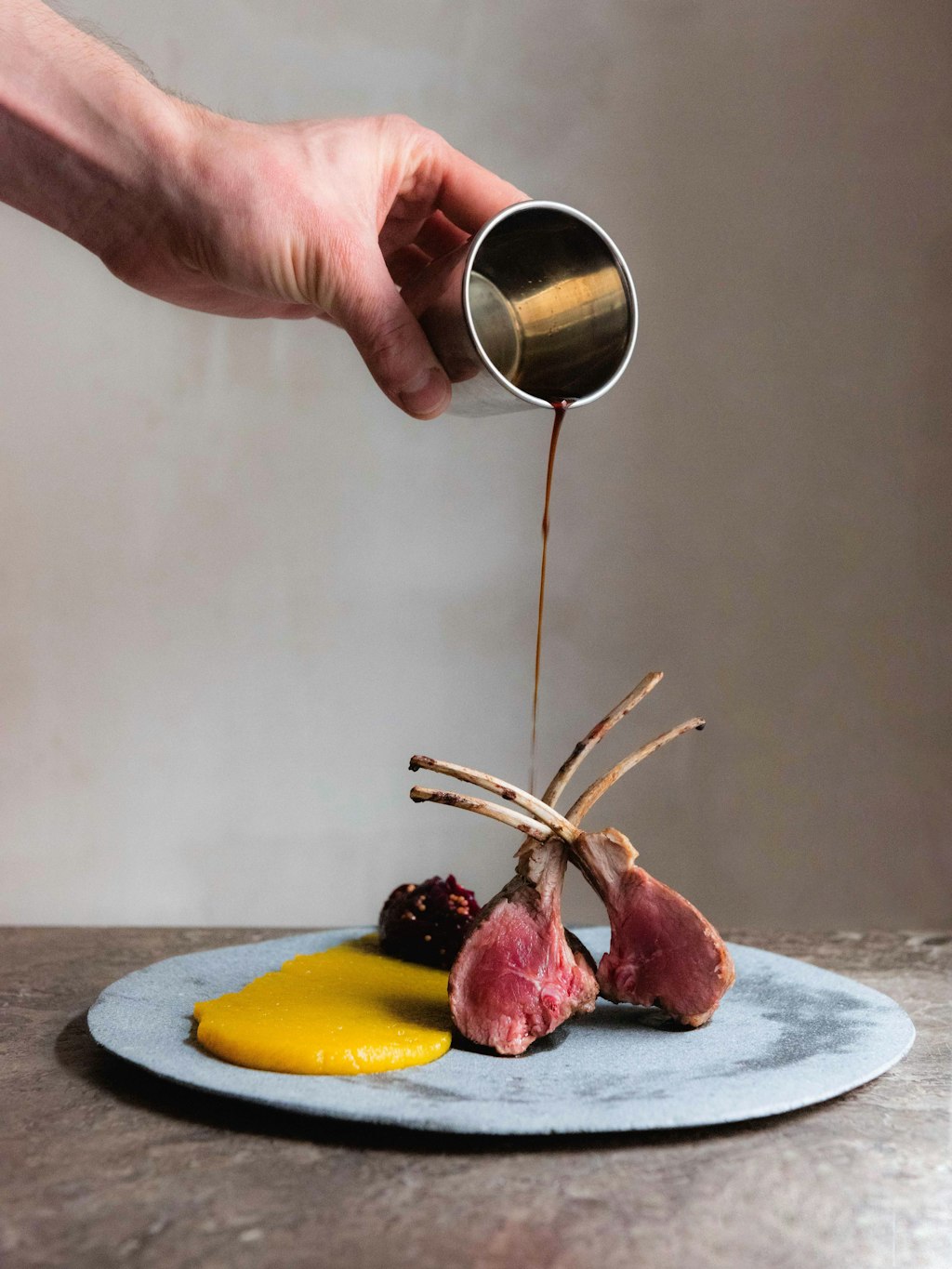 Beef tartare is often found in deli bars. But such fine minced pork from the lean Duroc pig is rare. This had nothing in common with a thick German onion roll. The notes of coriander and chilli played into the seasoning of the wonderful meat. Instead of bread, there was a fried French fougasse chip. I especially liked the cider-like fermented apple that chef Simon Guitard puts together.
The French influence of the chef is always recognizable
Simon Guitard learned his craft in Toulouse at a renowned cooking school. And because Berlin is so hip again, it likes to use old techniques like pickling, distillation, aging, smoking, lactose fermentation and aging. The nice thing is that his French influence remains recognizable in all the dishes, because Guitard never forgets the sauce.
With filet mignon, for example, a bone of red wine seduces. With the pointy cabbage, which I really didn't feel like eating, I had a yeast and white wine butter sauce with notes of caramel. It's also nice how the chef arranges the charred cabbage: light as a water lily and silky smooth. The crunch came from the popped buckwheat and leek – similar notes from wild garlic oil. I've never had kale so buttery.
Unlike other gastrobars, the plates are generously sized
A snack dish in the middle of the menu was also very French: a baked camembert from Normandy, under which a Riesling onion confit and a pumpkin miso were highlighted. A mighty course, because unlike some other gastrobars, the dishes are very generously sized.
However, there was room for the colorful dessert: a pastel-green cotton candy, enthroned like a cloud atop tart raspberry sorbet, accompanied by a sweet strawberry sauce and a savory crumble. Fernanda Befi created it because she is not only a sommelier but also a trained cook. Unbelievable, this woman, who also served the food in the evening, while her nine-month-old baby was hanging in the sling in front of her.
Incidentally, the birth of their son coincided exactly with the opening of their restaurant. They named the little one Rio. If it was a girl, it would be a holly. So the two restaurateurs simply called their gastrobar that. Their second baby, which they rock with equal devotion.
Prices: Bribes 5-15 euros? main dishes 24-29 euros; desserts 7-12 euros; 4-course tasting menu 55 euros or vegetarian 48 euros.
Holly Gastrobar, Mainzer Strasse 23, 12053 Berlin. Wednesday to Saturday 6.30 pm until midnight. info@hollyberlin.com, phone: +49 (030) 509 510 10, www.hollyberlin.com