A start-up from Fulda grows industrial hemp for its products. According to prosecutors, some of them allegedly have an intoxicating effect. He has filed charges. The trio of entrepreneurs call the process "eerie."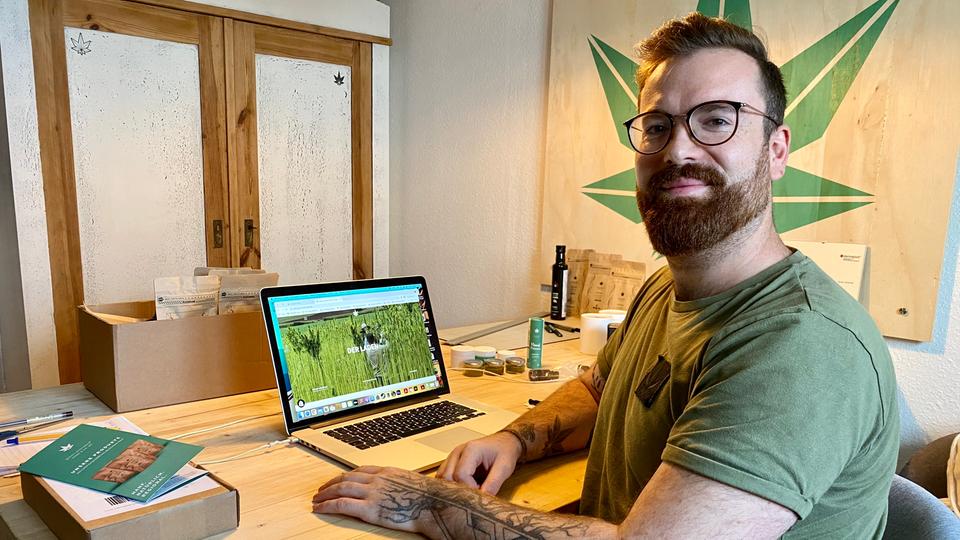 The Fulda prosecutor brought charges against the company Green Pioneers from Fulda, which sells cannabidiol (CBD) products. The cannabis startup is suspected of negligent cannabis trafficking, the authority announced Thursday. Now the district court in Fulda has to decide on the admissibility – and therefore on whether there will be proceedings.
A young trio of businessmen are accused. The three men founded the company in 2018 and have been growing cannabis ever since. In particular, they sell products made from EU-certified hemp plants, which they grow and process themselves in Fulda. From it they make food and foodstuffs as well as natural cosmetics.
Further information
CBD products
CBD products, which are also cited by celebrities and influencers, are in demand due to their purported effect on various ailments. CBD-infused oil and products such as gummy bears, chewing gum and cosmetics are offered online. Not CBD, but THC is responsible for the intoxicating effect of cannabis.
End of further information
The prosecutor accuses them: Four of their products would have tetrahydrocannabinol (THC) content that could cause intoxication. Therefore, buyers could abuse the goods as drugs. The defendants allegedly breached their duty of care in selling the products. Attorney General Christine Seban sees sufficient suspicion.
"We know of no guilt"
The CEO of the indicted cannabis start-up, Philipp Gärtner, said Thursday when asked: "We are not aware of any guilt and we have the feeling that justice wanted to bring charges with authority." The process is eerie, especially during times of ongoing legalization debate.
In the meantime, an even more serious charge was uncovered: suspicion of gang-trafficking. But that apparently wasn't confirmed during the investigation, Gärtner said. The allegations against the cannabis start-up, which has been reeling between legal troubles and expansion plans, had already been publicized for the past year.
CBD oil was opposed
According to Gärtner, only one product was ultimately complained about, but in four different packages. It is hemp extract in the form of CBD oil. You can gargle with it or rub it into your skin. It's supposed to relieve tension.
Gärtner says: "Before it was sold, we tested the product. A toxicological report found no toxic effects."
In a search of the company by order of the public prosecutor, several products were seized. In addition to cannabis drops, the researchers also tested cannabis tea and compressed tea beads.
THC limit under investigation
Specifically, it was whether the seized products were below the legal limit of 0.2 percent THC. According to the Federal Agency for Consumer Protection and Food Safety, a non-medical cannabis product in Germany cannot contain more than 0.2 percent of the intoxicating active substance.
Gärtner criticized the Fulda judiciary on Thursday and spoke of behavior by the authorities that was massively detrimental to business. He sees the company being unfairly prosecuted. He announced that his lawyers would take action.
"Like non-alcoholic beer among cannabis strains"
The company's portfolio includes around a dozen products, including cooking oil, hemp seeds, flour, tea and soap. "What we grow is like a non-alcoholic beer among cannabis varieties. The intoxicating substance THC has been bred and is only present in trace amounts."
The people of Fulda sell mainly online, but also in about 40 stores, mainly in Hesse, but also in Bavaria and Berlin. Start-up Fulda also participated in the competition for the Hessian Founder's Prize and reached the semi-finals.
On Monday (25 July), the Hessian Minister for Europe, Lucia Puttrich (CDU), really wanted to visit the company. This appointment has been cancelled.
Further information
End of further information
Form
Update hessenschau – the newsletter for Hesse

end of form