It was a trip that the new German chief diplomat had to postpone for a few weeks. Normally, Annalena Baerbock would have traveled to the Middle East a long time ago. But given the current situation in Eastern Europe, this has to wait.
This week, Baerbock finally went on tour in Israel, the Palestinian Territories, Jordan and Egypt, promoting a two-state solution and human rights. But with each day of their journey, the impression that they were in a conflict zone, but in fact in the wrong place, became stronger.
Interlocutors Baerbock and Safadi in Amman
The conflict between Ukraine and Russia was already an issue in Israel. In the Jordanian capital, Amman, Foreign Minister Ayman Safadi made it clear that an escalation of the crisis in Europe could have dire consequences for his country. Jordan, one of the countries receiving the most refugees in the region, is receiving strong financial support from Germany and other countries. A war in Europe would not bode well for the future of refugees and the region as a whole, Safadi fears.
News in Cairo: German citizens must leave Ukraine
At the last stop of the trip, in Cairo, the news broke from Berlin. In a joint press conference with Egyptian Foreign Minister Samih Schukri, Baerbock said: "At the moment there is a meeting at the Federal Ministry of Foreign Affairs with the relevant services and security authorities." He called on German citizens to leave Ukraine.
Diplomatic staff sent to the embassy in Kyiv will be reduced, as will those sent by German organizations such as GIZ and KfW, foreign professors and family members. In addition, the consulate general in Dnipro in eastern Ukraine will be "temporarily relocated to Lemberg" in the west of the country, Baerbock said.
Despite all the distractions from Europe, Baerbock has moved from the bilateral program to the Middle East. The interlocutors are also waiting for it. Thus, she dealt with the issues of her heart: human rights, climate protection, women's rights.
The German Foreign Minister called on the governments of Tel Aviv and Cairo to respect human rights. Under Abdel Fattah al-Sisi, persecution of government opponents in Egypt has increased dramatically. As a result, up to 60,000 people are in prison there. He spoke "openly and honestly" about it with al-Sisi, Bayerbok said.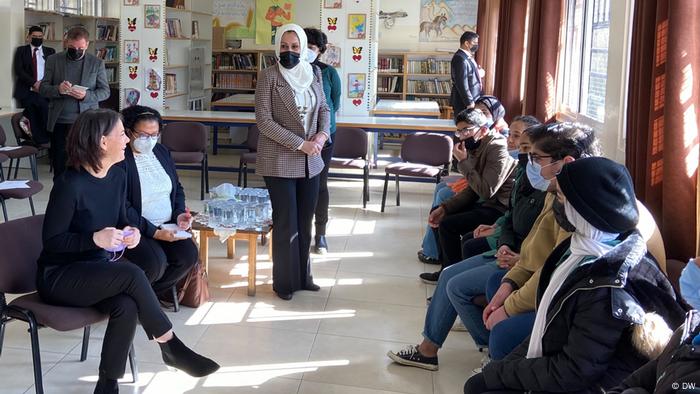 Bayerbok at a school for refugee children in Jordan
In Jordan and Egypt, he explored opportunities for cooperation on climate protection. This year's World Climate Conference will be held in Sharm el-Sheikh next November – an event in which climate and human rights issues will be closely intertwined. Baerbock also met with representatives of non-governmental organizations in each of the countries she visited.
No weapons without human rights
Another sensitive issue, arms deliveries, has also been raised several times, most recently in Cairo. Egypt is the first country to receive German weapons. In 2021, weapons and defense systems worth more than four billion euros were exported there. No other country is currently equipped with German weapons as massively as Egypt. For comparison: As a NATO ally, the US imports about a third of its weapons from Germany.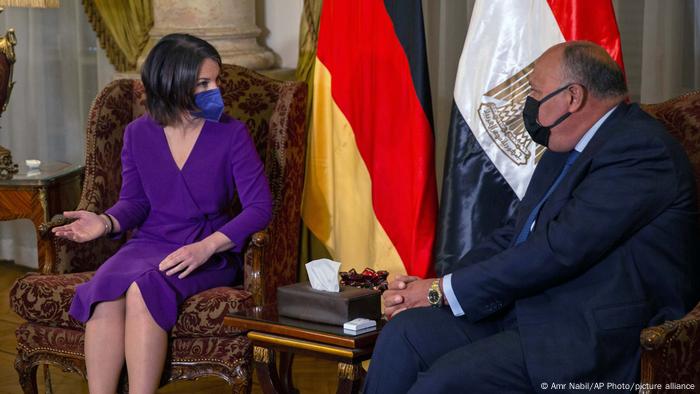 Baerbock and Schukri's Egyptian colleague in Cairo
Regarding arms deliveries, the Green politician announced that the new government in Berlin will soon consider even more closely the "restrictive policy" on arms exports. Exceptions would then be possible "only in justified individual cases and after careful consideration". "Of course, this will also affect countries that were previously the main recipients of German arms exports," Baerbock said.
The "Arms Export Control Act" will soon provide more clarity. In the event of this happening, exporters and the government will not only be obliged to comply with the "restrictive guidelines", but their decisions will be legally enforceable in case of doubt.
Egyptian Foreign Minister Shukri reacted to such scenarios by pointing out that Egypt does not condition its relations with other countries. "Mutual respect and non-interference in internal affairs" are important. Egypt sees a direct link between its security and Europe – for example in the fight against terrorism and immigration.
The diplomacy of the crisis continues
Annalena Baerbock returned to Berlin on Saturday night. Now is the time to implement the measures. That could take another two days, he said in Cairo. Chancellor Olaf Solz travels to Kyiv in two days and to Moscow in three days.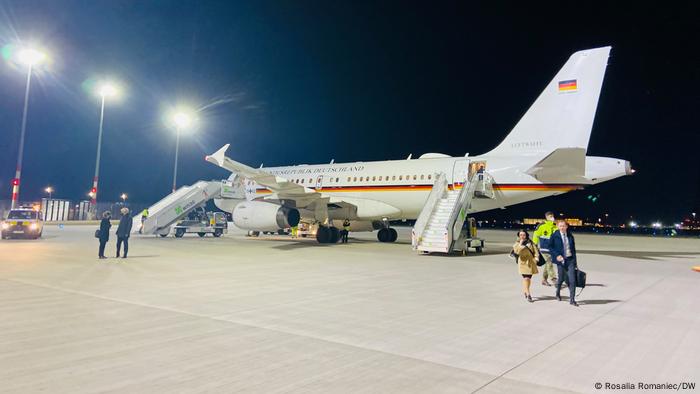 Government Airbus after Baerbock returns to Berlin
It cannot be ruled out that the Federal Foreign Minister, who is also the head of the crisis team itself, will have to take further security measures very soon. Especially if, as the US predicted, the "worst case" in Ukraine should happen in the middle of the week. But no one in Berlin wants to think about it now. The election of the Federal President is expected on Sunday. After that, crisis diplomacy must continue.